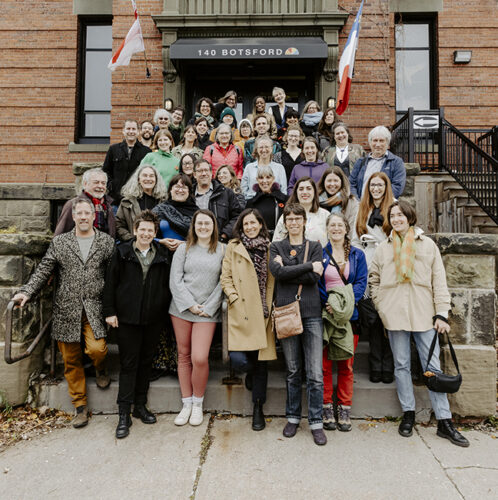 Who we are
L'Association des groupes en arts visuels francophones (AGAVF) is a national arts service organisation that represents visual arts groups active in Francophone communities outside the province of Quebec. Its members are located in New Brunswick, Nova Scotia, Ontario, Manitoba, Saskatchewan, Alberta and British Columbia and consist of artists associations, university galleries, artist-run centres, production centres and artists' collectives that are involved in producing, promoting and presenting the work of professional French-Canadian artists. AGAVF accepts individual memberships from artists residing in provinces where there are no Francophone organizations dedicated to the visual arts.
Raisons d'être
Goals
Represent, on the national cultural scene, groups working in the field of professional visual arts in Francophone communities located outside the province of Quebec;
Lobby on behalf of the Francophone visual arts sector to raise awareness of, and increase funding for, the sector among the major government bodies;
Represent and position the sector with other like-minded associations across the country;
Support our members in their professional development and in strengthening their structures;
Improve conditions for the production and presentation of works by professional Francophone artists living and working in communities located outside the province of Quebec and better promote work by artists belonging to our member organizations;
Consult, engage and maintain a dialogue with organizations active in the cultural development of Francophone communities.
Vision (2024)
In 2024, AGAVF is an effective network in the Canadian visual arts sector that allows artists and organizations (artist-run centres, galleries, associations) from the Canadian Francophonie to gain recognition from their peers, key institutions, and funders.
Through a range of relevant and innovative activities, the Association supports the visual arts ecosystem of the Canadian Francophonie and is even a paragon for other arts networks in Canada.
AGAVF stands out for its cohesive network, efficient structure, quality partnerships, and the commitment and renewal of its leadership.
Strategic positions and priorities
In keeping with this vision, four strategic priorities will define AGAVF's actions over the next five years:
1/ Sectoral positioning: Confirms the Canadian Francophonie visual arts sector's validity within the country's overall visual arts sector and provide greater support for its development.
2/ Network consolidation: Strengthen and expand the network of professional structures (artist-run centres, galleries, artist associations, etc.) who support visual arts activities within the Canadian Francophonie.
3/ Community development: Broaden, quantitatively and qualitatively, the pool of arts resources (artists, curators, writers, arts administrators, etc.) within the Canadian Francophonie, and help promote their work.
4/ Expansion of the organization: Strengthen the organization's capacity to ensure the sector's expansion.
Studies
Literature review on the Canadian art market and the socio-economic conditions of the visual arts market, conducted for the Department of Canadian Heritage (April 2018) Report
Programme de développement professionnel en arts visuels adapté à la francophonie canadienne (For a Visual Arts Professional Development Program tailored to the needs of Francophone Artist-Run Centres outside Québec), including a summary for the AGAVF, RCAAQ and ARCA (2017)
A Current Look at the Situation of Artists in the Canadian Francophonie, conducted by the Canadian Institute for Research on Linguistic Minorities (CIRLM), for the Canada Council for the Arts (September 2013) Summary
The Distinct Role of Artist-Run Centres in the Canadian Visual Arts Ecology, conducted for the Canada Council for the Arts (May 2012) Report
INRS (Institut national de la recherche scientifique) – The visual arts sector in Canada: overview and critical analysis of recent documentation, conducted for the Visual Arts Alliance (April 2011) Report
Study on Visual Arts in Minority Francophone Communities, conducted for the Canada Council for the Arts and the Department of Canadian Heritage (2001)
AGAVF's strategic planning
AGAVF – Strategic plan 2019-2024 (in French)
How to reach us
National Office
AGAVF
B.P. 7131, succursale Vanier
Ottawa, Ontario
K1L 8E2
Canada
telephone: 613 244-9584
email